FOR IMMEDIATE RELEASE
October 29, 2012
Contacts:
Eric Ryan, ImpeachBerg.com (457-1950)
City Councilman Tom Berg (753-7324)
State Campaign Spending Commission (586-0285)


CITY COUNCILMAN TOM BERG PLEADS GUILTY TO TWO OF THREE CHARGES AGAINST HIM PENDING BEFORE STATE CAMPAIGN SPENDING COMMISSION AND STARTS FILING AMENDED REPORTS; BERG CONTINUES TO FIGHT TOP "RENE MANSHO" COUNT OF NOT REPORTING NEARLY $30,000 IN STOLEN CITY FUNDS ILLEGALLY USED IN FURTHERANCE OF BERG'S POLITICAL CAREER
From blanket denials to sworn confessions in a matter of months:  After initially calling the massive campaign finance and corruption complaint filed against him "nothing but a pack of lies and fabrications", City Councilman Tom Berg has quietly reversed course and pled guilty in a sworn confession to several of the charges pending against Berg before the State Campaign Spending Commission (CSC).
Berg's confession comes on the heels of the 10 October 2012 recommendation by the CSC's staff attorneys that Berg be fined more than $30,000 for failing to report tens of thousands of dollars in unreported campaign income and expenses; most of which was illegally stolen by Berg from the City & County of Honolulu for the benefit of Berg's re-election campaign. The commission is reconvening this Thursday, November 1st, in order to continue its deliberation, including its review of Berg's new confession along with Berg's arguments that he shouldn't be held liable for having City employees in his City Council office doing campaign related work which is unrelated to official City business.
The commission's staff has already subpoenaed and examined Berg's bank records, confirming allegations by Berg's former chief of staff Eric Ryan concerning thousands of dollars in discrepancies between Berg's actual campaign funds and his legally required disclosure reports, indicating probable comingling of Berg's personal and campaign finances as well as deliberately deceptive reporting.  That portion of the investigation into Berg's finances led the West Oahu councilman this weekend to file no less than twenty-eight amended reports covering two years of campaign finance activity which reveal previously hidden transactions by his campaign.
While Ryan claims that Berg is still "a long, long way from fixing his cooked books" – official government reports which show Berg's campaign bank account impossibly being more than $11,000 overdrawn -- Berg has suddenly acknowledged a previously secret $4,000 loan used to pay for his campaign's single postcard mailed to voters during his successful 2010 Special Election to the City Council.  In addition, Berg was forced to disclose some of the several thousand dollars in taxpayer funds from the City which ended up in Berg's campaign coffers through a pay raise Berg gave to his former City chief of staff in spring 2011 in exchange for campaign donations to Berg.  Those thousands of dollars in City money were used to fund Berg's political campaign committee's advertising in conjunction with the annual Tea Party event, while the same pay raise was expected to be used for additional radio advertising on Berg's behalf.
Despite Berg's guilty pleas and even more damning evidence against Berg provided by Ryan to the CSC last week about Berg's illegal misuse of City Hall as his de facto campaign headquarters, Berg astonishingly maintains his claim that he had "no idea" political work was being done at City Hall or that it was being done during work hours as part of his City employees' duties at Berg's own instruction.  Berg has told the CSC to ignore all of that evidence, "My rule was no politics in City Hall by my City employees.  I never instructed them to do political work or even knew about the help they were giving me and my campaign politically."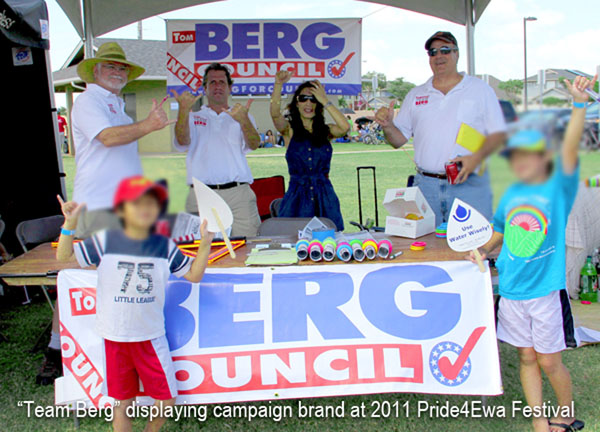 One example is that City tax monies were used by Berg to pay City employees to plan and participate in mandatory campaign activity such as staffing Berg's campaign booth at Ewa Beach's annual Pride4Ewa event in April 2011, for which Berg also instructed his City staffers to produce Berg polo shirts and t-shirts paid for at Berg's direction with City funds. [SEE PHOTOS]   The booth fee was even paid for with City funds at Berg's direction. Berg instructed all City employees on his staff to attend and staff his booth, even telling his top aide in an e-mail that the "campaign for Team Berg launches" at the community event in Berg's district.  How does getting Berg political exposure and 'launching' Berg's campaign serve a public purpose?
Berg routinely provided his senior aide Ryan at City Hall with instructions to work on Berg's political strategies to ensure his re-election, to use City computers to amass more e-mail addresses of West Oahu voters for Berg to use in his campaign's re-election and fundraising communications, to work on Berg's campaign website, on ways to attack Berg's opponent Rep. Kym Pine-Ryglowski as being for "un-American" policies, and much more activity which is illegal for City employees to do for their bosses at City Hall.  The evidence shows that Berg planned to use his City employees as paid campaign workers from day one, including having his City Council chief of staff take care of Berg's campaign website as part of his job at City Hall.  In fact, just days after winning election in December 2010, Berg e-mailed his former employer Pine about how Berg intended to utilize his City employees:  "I will need all 4 staffers in my office focused on BERG's reelection efforts...I need all staff committed to the BERG front.".  Many observers regard Berg's fear of Pine threatening to run against him unless the newly-elected Councilman Berg gave City jobs to Pine's campaign chairman and relatives as what motivated Berg to use City resources to jump start his underfunded campaign for re-election.
Hawaii News Now reported on some of Berg's political instructions via voicemails and e-mails to City employees in a story broadcast last year, such as working to take over the Republican Party and to unite Hawaii voters of all political stripes against the native Hawaiian "skinheads" who Berg claimed are in charge of the Hawaii Republican Party.  Here's the video of that story.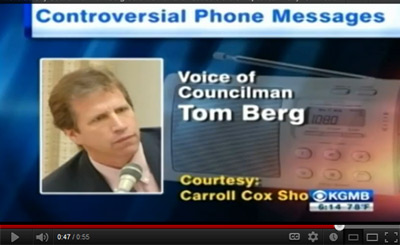 Berg's deputy chief of staff and personal attorney Philmund Lee would assist Berg's campaign from City Hall in a variety of ways, including scheduling Berg for political appearances which offered Berg the opportunity to be seen before the 2012 election by "lots of GOP and haoles". Berg's deputy chief of staff Lee would also help Berg to database and coordinate campaign volunteers.

By law, none of these political activities can be undertaken at City Hall by City employees because they don't serve a 'public purpose'. Yet despite the 24/7 illegality of using City Hall as a de facto campaign headquarters and despite clear political instructions from Berg to his City employees throughout the work day, Councilman Berg is hoping to convince commissioners to ignore the mountain of evidence against him to avoid having to pay more than $30,000 in fines and a likely referral to the State Attorney General for prosecution.  Acknowledging his two guilty pleas along with his determination to continue fighting, Berg wrote to the CSC recently:  "(T)his complaint, excluding the voter contact list, and excluding the 4 contributions so named, Ryan's complaint on all other counts must be dismissed."
Berg further stipulated that he will "now file (the Tea Party full page ad) as an in-kind contribution from Ryan."  Of course, this money for Berg's political advertising originated with the City and was laundered through the increased payroll of Berg's then chief of staff for the purpose of paying for Berg's ads.  Ryan responded to Berg's political use of City employees this way: "As Berg's chief of staff for six months, I witnessed firsthand that Berg thinks that putting City employees to work on his political career and using City funds in furtherance of that career is entirely appropriate. For enough of the time, Berg was sober enough to know better."
#    #    #    #    #
Please DONATE to Citizens Against Crooked Politicians
to support our continuing Facebook advertising campaign.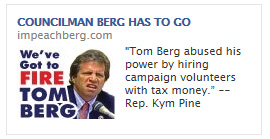 And if you live in Council District #1, please download and complete
the official Impeach Berg petition today. Mahalo!!
# # # # #